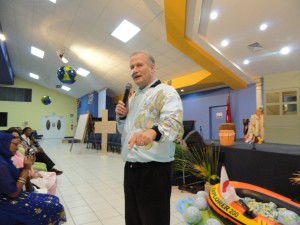 Last night as the ladies led us in an exciting, creative missions evening at the Bethel World Outreach Ministries Church in Trinidad, I could tell my upcoming message would not be the best fit.  So changing the game plan I shared about three woman, who, if it was not for them, I would not be on this Caribbean island tonight.
– Mum, who when my dad left us, scrapped and scraped to raise four of us on her own.
– May, manageress of a local store, where at age 14, I got a weekend job.  She was like God with skin on to me, and brought me to a meeting when I was 18 where I gave my life to the Lord.
– Mrs Clapp, who prayed for 15 years for a high-school near New York City that young people would be saved and sent all over the world. The first one to be saved and sent was George Verwer, who messed up my life one Wednesday chapel 38 years ago at the now The London School of Theology, launching me in missions.
I believed last night there were more mothers, manageresses and prayer warriors to impact the next generation.  Pray for the next 4 nights here with my Rachel and my OM colleague, Stephen Andrews assisting me.  I sense some more game changes.